Morgan's Proscape-Van body was developed to meet the needs of the landscape industry and it does just that! Whether you want to increase your cargo space, secure your equipment or increase profitability by improving your productivity – our body does it all. And it's not just for landscapers!

Furniture movers, appliance and parcel/package delivery, caterers, snack and vending suppliers, party and event planning, linen delivery, and uniform delivery companies are just A FEW of the service providers that will appreciate the easy access and efficient movement in and out of the cargo area – that a ProScape body provides. ProScape's industry-leading ramp/door combination also eliminates the need for an extra trailer, or inefficient internal and bulky external dovetail.

And added security is also provided with dual, keyed stainless steel swing arm locking mechanisms. Depending on your specific chassis make and model, wheelbase, and body length combination, the ProScape door/ramp platform can handle loads weighing up to 2,500 lbs., *which includes most commercial mowers and service equipment.
Features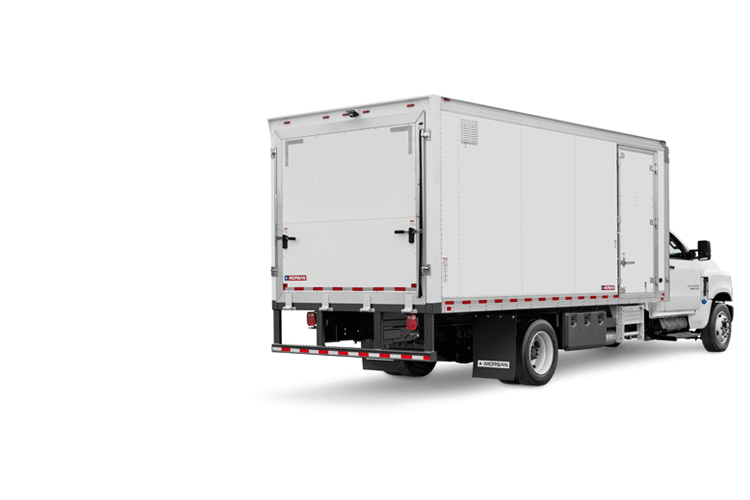 ProScape's door/ramp opening is 79 ¼" high by 88" wide – and offers plenty of room for the loading/unloading of commercial mowers and service equipment. The keyed swing bar locking rod system keeps equipment secure while also being easy to open. A spring tensioner also supports easy opening and closing.

Door construction includes a corrosion-resistant aluminum extruded floor bonded to aluminum skin, with pooched aluminum on the lower ramp for better traction. The water-resistant door seal also helps to keep moisture out of the cargo area.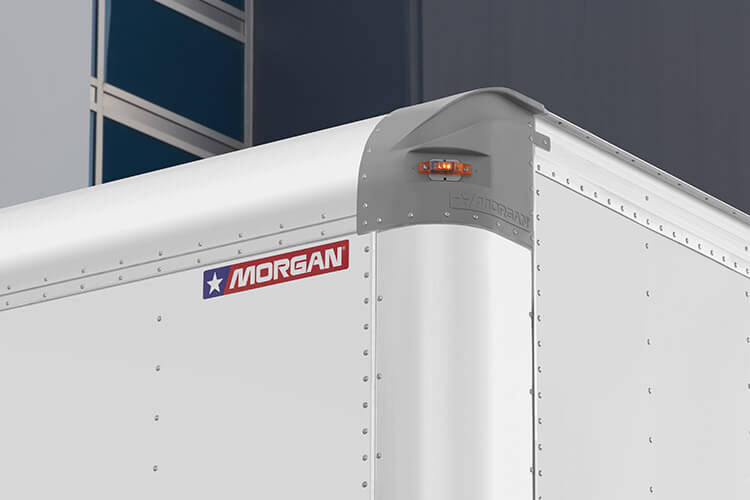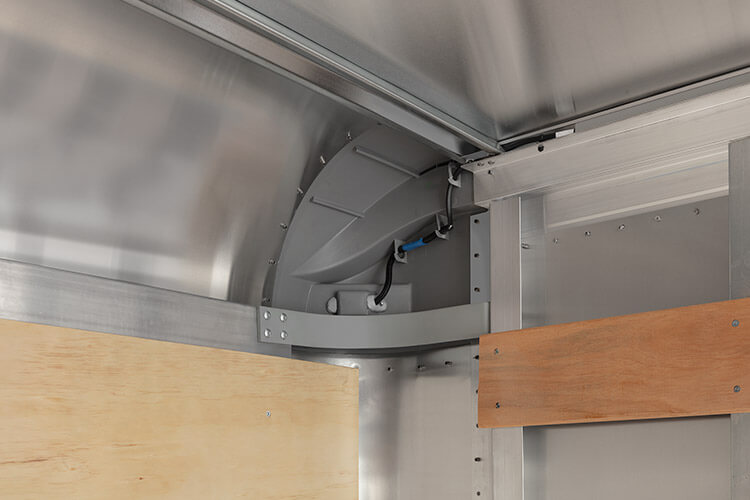 Improved fuel efficiency saves you money. That's why Morgan's Proscape-Van bodies feature aerodynamic front-end design that reduces wind-resistance and decreases fuel-consumption. Morgan's patented poly-tuff corners also add up to greater durability and resistance to the elements – both of which mean better protection for your payload!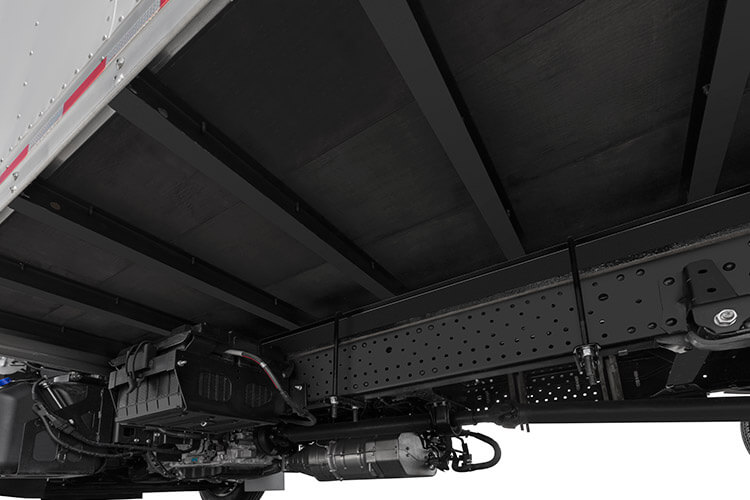 Morgan's sub-frames deliver light weight AND uncompromised strength. All-steel sub-frame components and 12-inch on-center support placement, provide strength and durability where it's needed. Corrosion-resistant extruded steel 3" I-beam cross-members and 4" longrails reduce overall weight. And pre-undercoated floorboards provide even greater protection against the elements.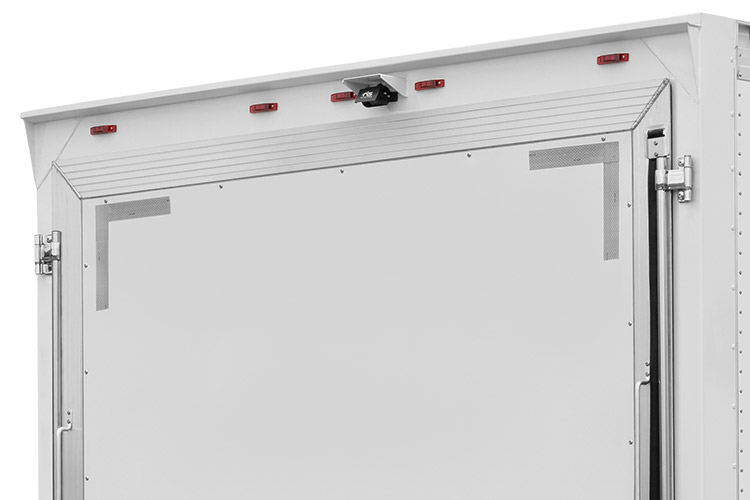 The rugged galvanealed steel rear-frame, and durable imron-white finish help to protect your body (and your cargo) from the elements! The innovative design of the built-in header, rain deflector and clearance light guard, provide added damage protection. And strategically placed curb and roadside grab-handles, provide a safer, team-friendly work environment! And don't forget – Morgan offers a variety of options, including rear view cameras, and custom-Bumper – to suit your unique needs.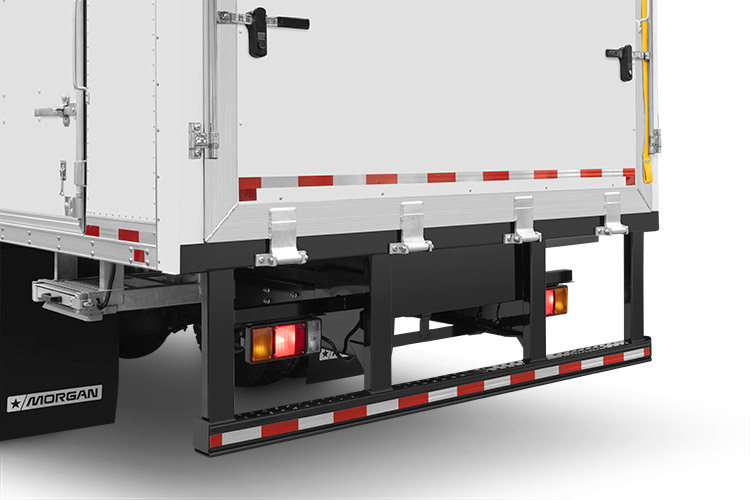 Moving in and out of the cargo area is made easier with Morgan's 5-inch, pooched-surface structural bumper and textured closure plate. Improved traction supports greater efficiency and safety! And a wide range of bumper configurations – including step, drop-step, intermediate steps, under-ride bumpers, walkramps, and a variety of bumper blocks – are available to make your job even easier!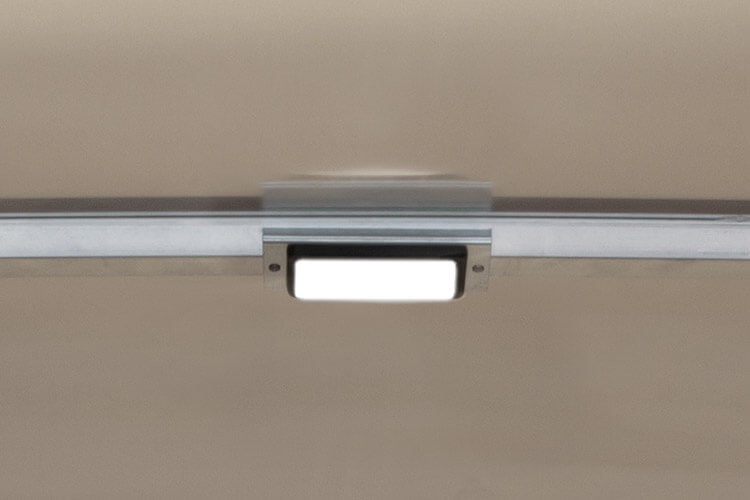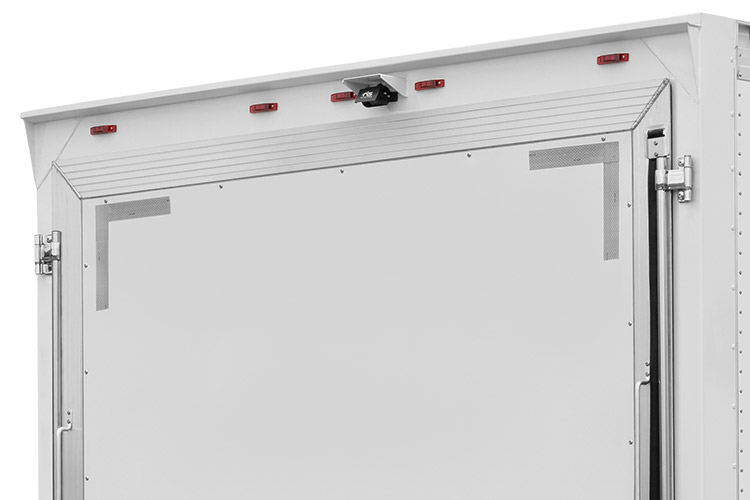 Visibility in AND outside of the cargo area is easy with Morgan's range of LED lighting packages. Bright LED (FMVSS-compliant) lighting includes a dome-light with indicator-switch mounted in the cab, exterior sealed clearance lights, corner cap, side top rail and rear header lights – as standard on all bodies.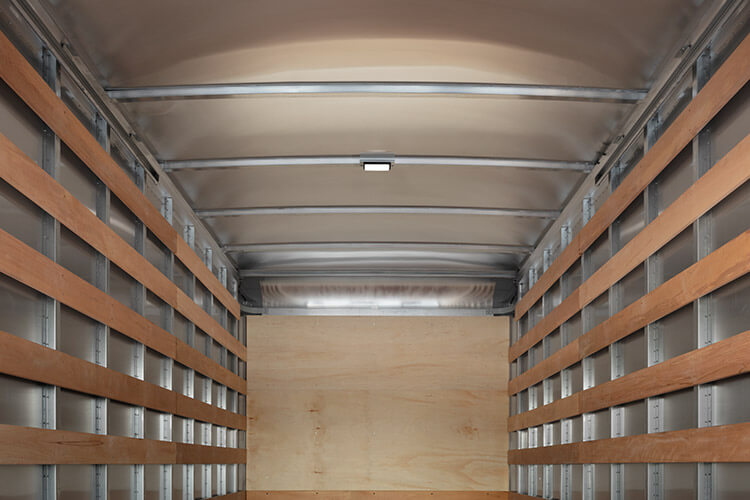 Morgan's Proscape-Van roofs use a single piece of .032" mm crowned aluminum sheeting to minimize seams where water tends to infiltrate. The gentle bow is reinforced with anti-snag supports, positioned 24-inches on-center, to provide added strength without adding unnecessary weight. Water sheds quickly so there's less opportunity to compromise cargo. An optional translucent roof is also available to take full advantage of ambient light.
Wall Construction
Aluminum, MorganPlate or Fiberglass Reinforced Plywood wall construction ensures solid choices when it comes to the functional qualities you prefer – AND the image you want your Dry Freight, box, straight-truck or van to present! It's easy to see how Morgan earned its reputation for innovative design, quality construction and superior customer service! There's NoBODY Like Morgan!

Aluminum Wall Construction
Affordability and lightweight are key considerations when it comes to selecting aluminum wall construction for your box, straight-truck or van body, because light weight adds up to reduced fuel consumption. But light weight doesn't mean compromised strength when you have Morgan ingenuity built-in! Extruded aluminum top and bottom rails with 1 3/8" deep galvanized z-shaped steel vertical posts installed 16" on-center, provide superior structural support. And the .040" aluminum skin exceeds industry standards. Aluminum is also corrosion-resistant, making it an excellent choice when it comes to protecting your cargo from the elements year-after-year.

MorganPlate Wall Construction
MorganPlate delivers a unique combination of strength and versatility for those who recognize the value in having your body perform double-duty as both a delivery or service vehicle AND an excellent marketing tool! Composite construction – consisting of two external skins thermally bonded to a high-density polyethylene core, makes MorganPlate strong, durable, energy absorbent and impact resistant! Innovative design and construction helps to protect your valuable cargo mile-after-mile. On the outside, MorganPlate's clean, uninterrupted surface is a perfect canvas for custom-graphics. With MorganPlate, beauty is more than skin-deep!

FRP Wall Construction
Morgan's FRP panels includes a 3/8" plywood core, entirely encased in polyester resin reinforced with high-strength woven fiberglass. It's tough. It's durable. And it out-performs the competition when it comes to its ability to resist dents and scratches – inside and out. The smooth exterior surface is also a great place to display custom-graphics and promote your business everywhere you go! Morgan even offers custom paint and decal installation for your convenience!